Why run/walk or donate to the Abi Kattel Memorial Foundation (AKMF)?  
Keep yourself healthy and happy.   At the same time help others in many ways. The run: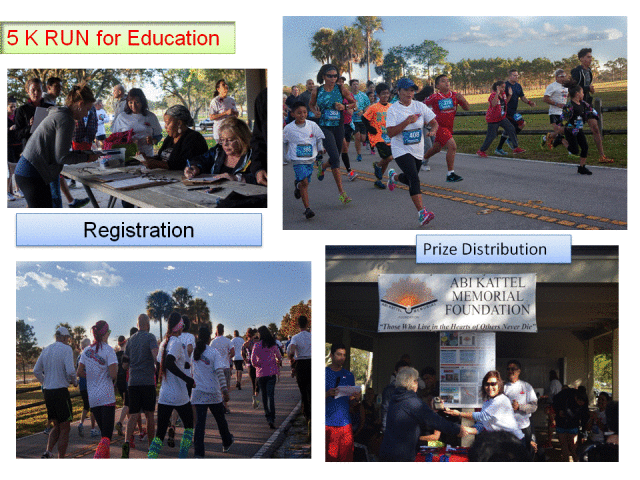 *  helps college students achieve their goals through the "AKMF Scholarship".
*  helps underprivileged children participate in day camps at YMCA through the AKMF youth scholarship.
*  helps provide food for homeless people served at St Ann Place, a homeless center.
*  saves lives of people through Blood Donation programs of AKMF.
*  promotes the saying "Those Who Live in the Hearts of Others Never Die".
Ways to get involved:
You can make a donation any time to achieve above goals via paypal to abikattel.foundation@gmail.com or by visiting  www.abikattelfoundation.org or sending checks payable to Abi Kattel Memorial Foundation to the address: 12197 Sunset Point Circle, Wellington, FL 33414.  
Register for the run 2017:  click here 5 K Run Brochure 2017 .  To complete registration please print the form and send completed form to 12197 Sunset Point Circle, Wellington, FL 33414.
Run Result 2016 :   Run Results by Age Group_1-16-2016